Essentials
Visual Components Essentials is our foundational manufacturing simulation product. Design, construct, and simulate the factory of your future using ready-made components.
Factory Simulation

Creating Sales Content

Basic Virtual Commissioning

VC Experience in Mobile Environment

Basic Robot Programming

Virtual Reality
Place Configuration
This is the main application of Visual Components Essentials. You can quickly create a spatial layout by dragging components directly from the E-Catalog into the 3D world and connecting compatible components through the plug-and-play feature. Using the feature editing function, you can manipulate predefined component parameters such as dimensions, speed, and color. Benefit from our component library with over 1200 ready-made conveyors, industrial robots, and components from more than 30 major industrial brands.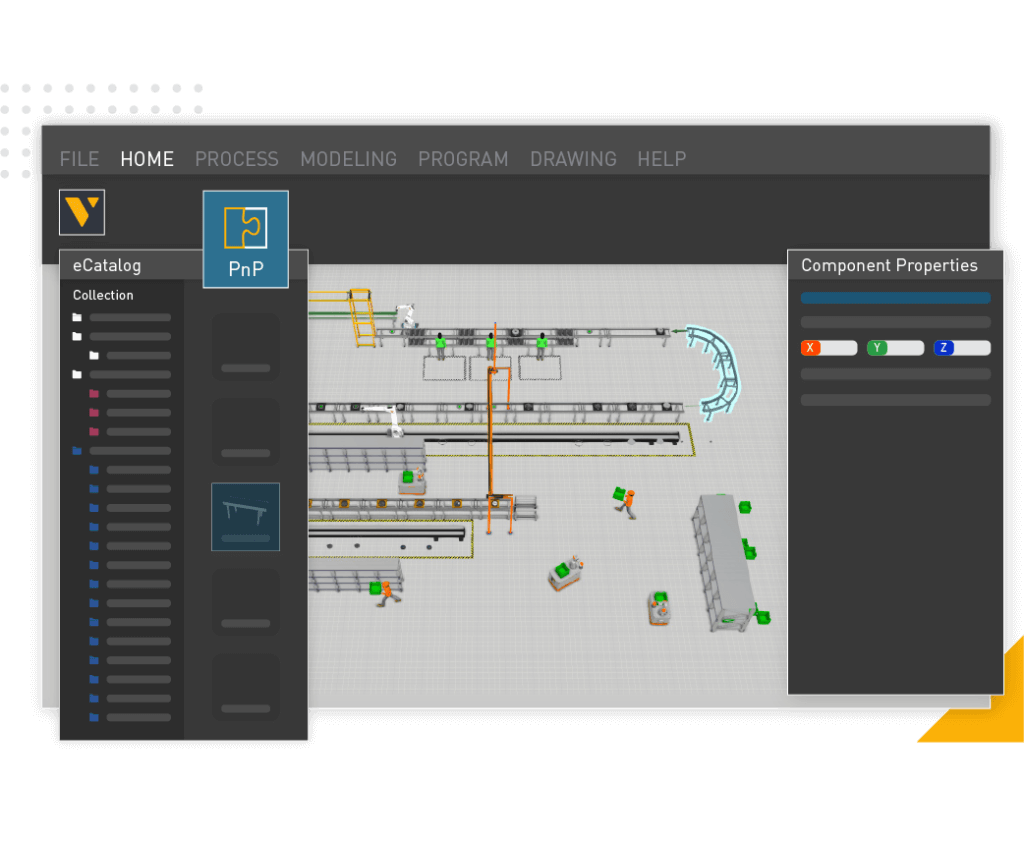 ---
Process Modeling
A simple yet powerful way to manage processes and production flow within your layout. Many modeling tasks can now be completed as visual workflows, reducing the need for programming. The new "PROCESS" tab includes action panels to define, edit, and manage products, processes, and production flow. The production flow can also be visualized and controlled within the 3D environment, making it easier to analyze layouts, troubleshoot issues, and facilitate changes.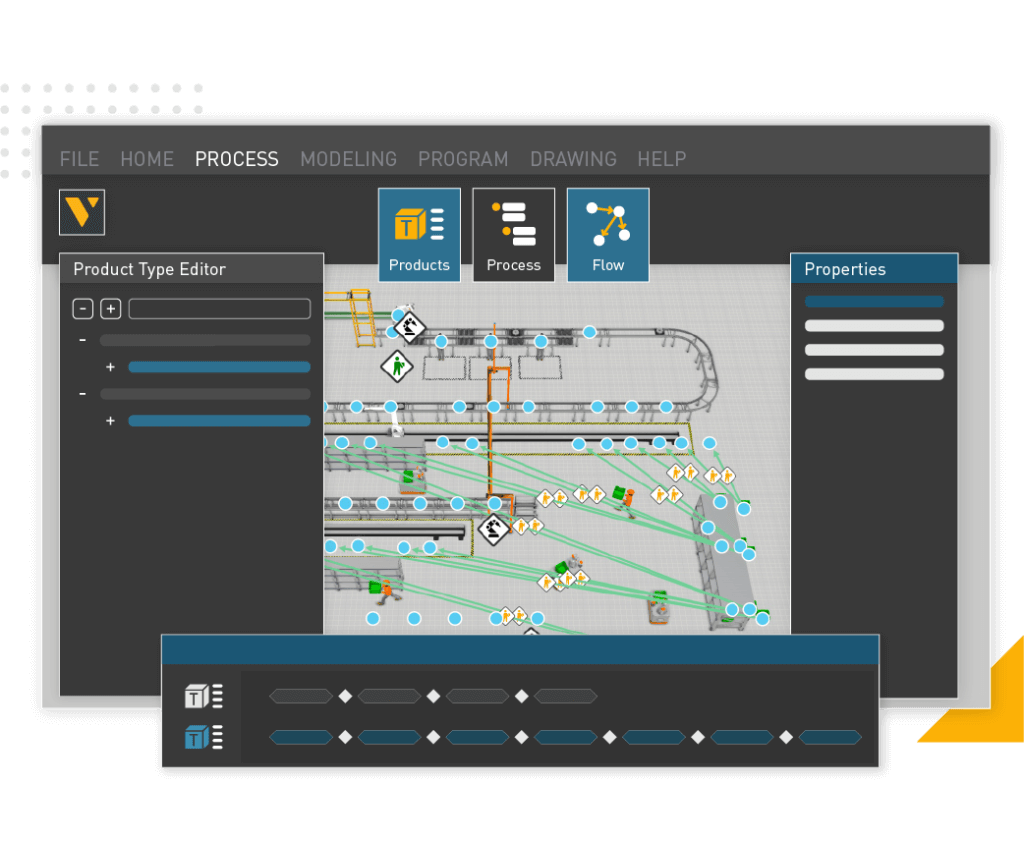 ---
eCatalog
Benefit from our comprehensive component library. Visual Components eCatalog offers over 2,900 pre-defined and ready-to-use components, comprising a robust library of virtual robot, machinery, and equipment models from leading industrial automation brands in the industry.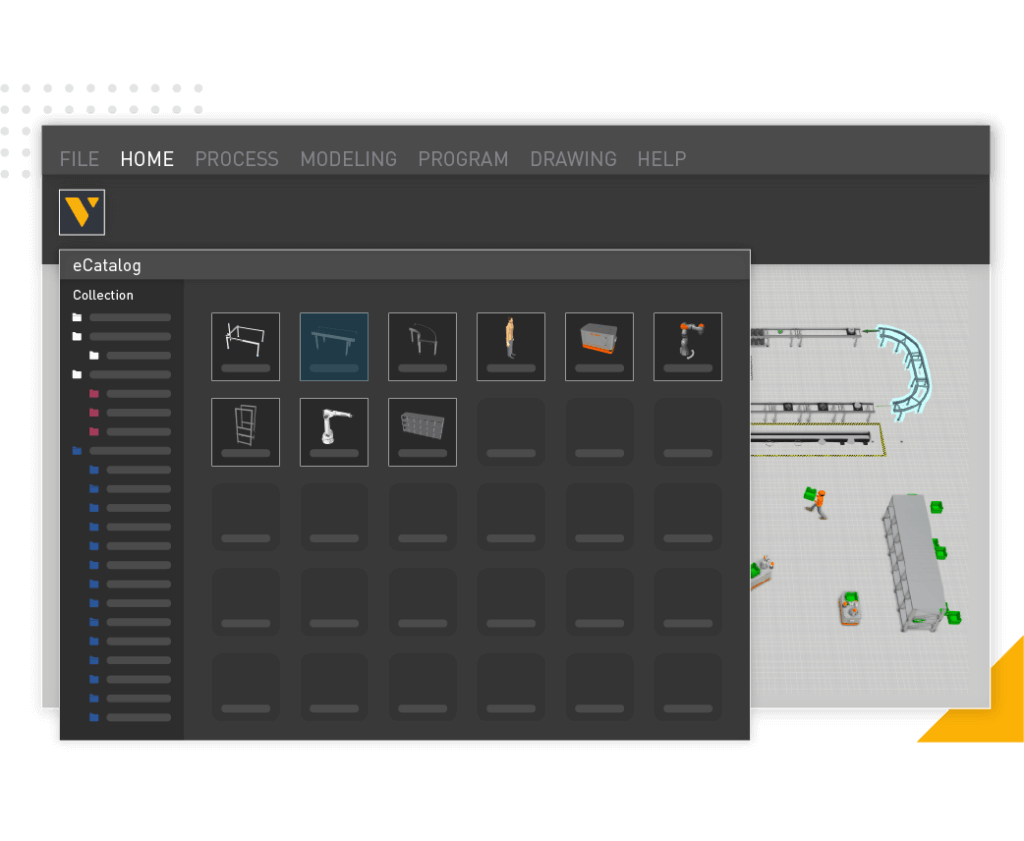 ---
CAD Compatibility

Transfer your CAD files directly into the 3D world. Visual Components Essentials supports CAD file types developed by many leading CAD firms, allowing you to easily import geometry files created with Autodesk, Dassault, PTC, Siemens, and other popular software applications. The most commonly used CAD formats are supported, so you can receive geometry files exactly as they were designed in their original form. The best part is that the Essentials version includes CAD import functionality, eliminating the need for any additional cost or plugin. You can effortlessly transfer your CAD files to the program.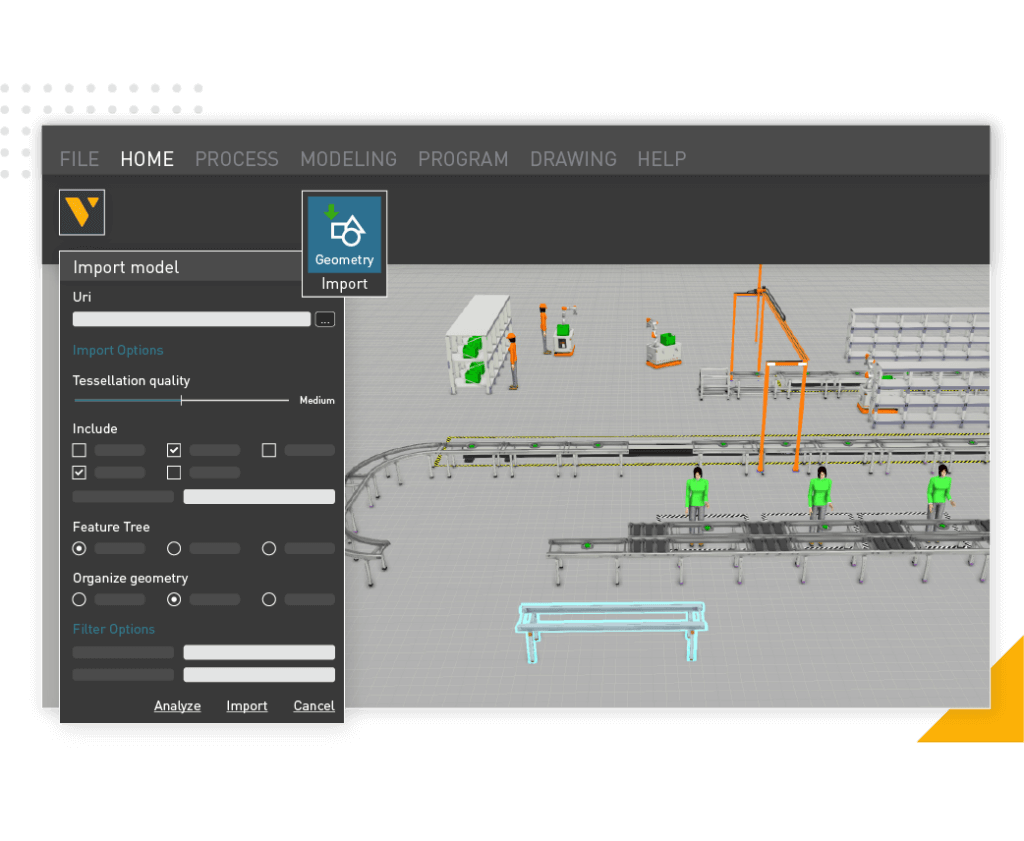 ---
Ready-made Project Outputs

Improvements have been made to the files you can generate and the outputs, new templates have been created, and workflows have been made much smoother. You can easily capture screenshots from 3D environments and send them directly to your presentations. You can record and share videos in up to 4K HD quality. With embedded simulations, integrated navigation and playback options, and material casting, you can create animated and interactive 3D PDFs. With the new 2D drawing template, you can quickly turn 3D drafts into presentation-ready drawings in seconds.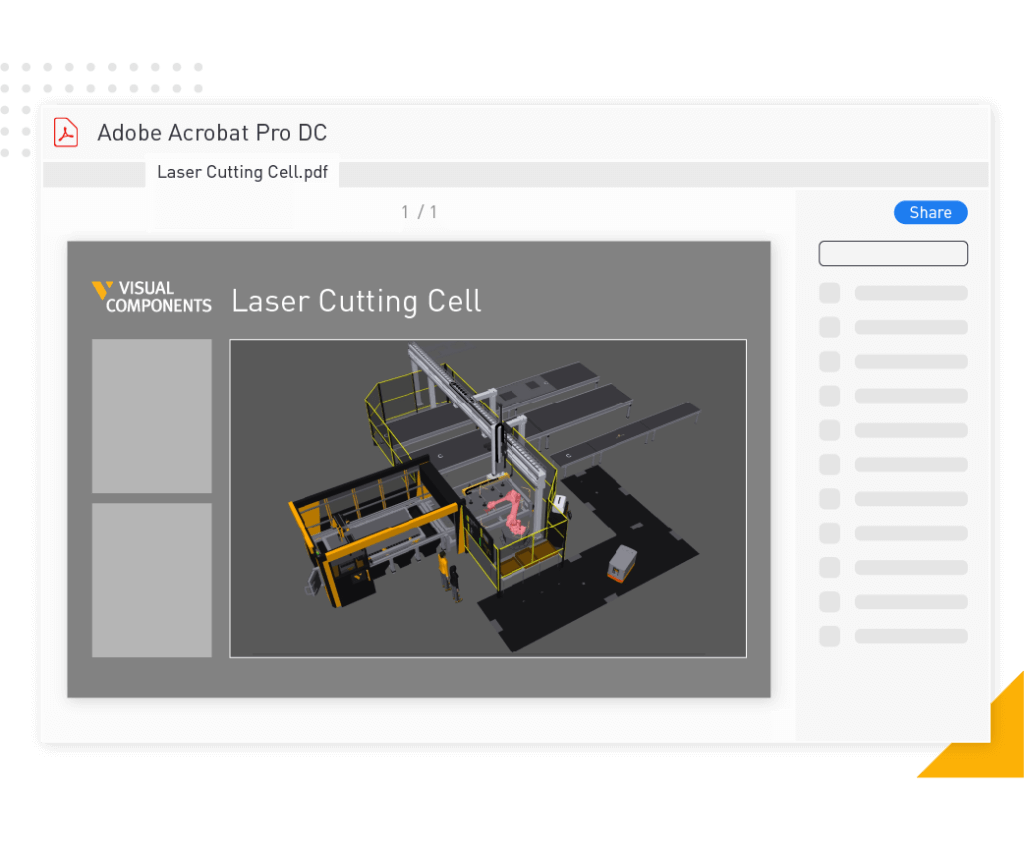 ---
Basic Robot Programming

Use offline robot programming (OLP) tools to quickly teach and program robots and cobots in a virtual environment for your usage scenarios. OLP provides time and cost savings in robot and cobot integration for your applications. Define, model, and program robot behavior with easy-to-use robot teaching tools. Simple robotics offers fast robot teaching, robot motion, accessibility, collision analysis, and built-in features to define robot logic and poses using control flow statements..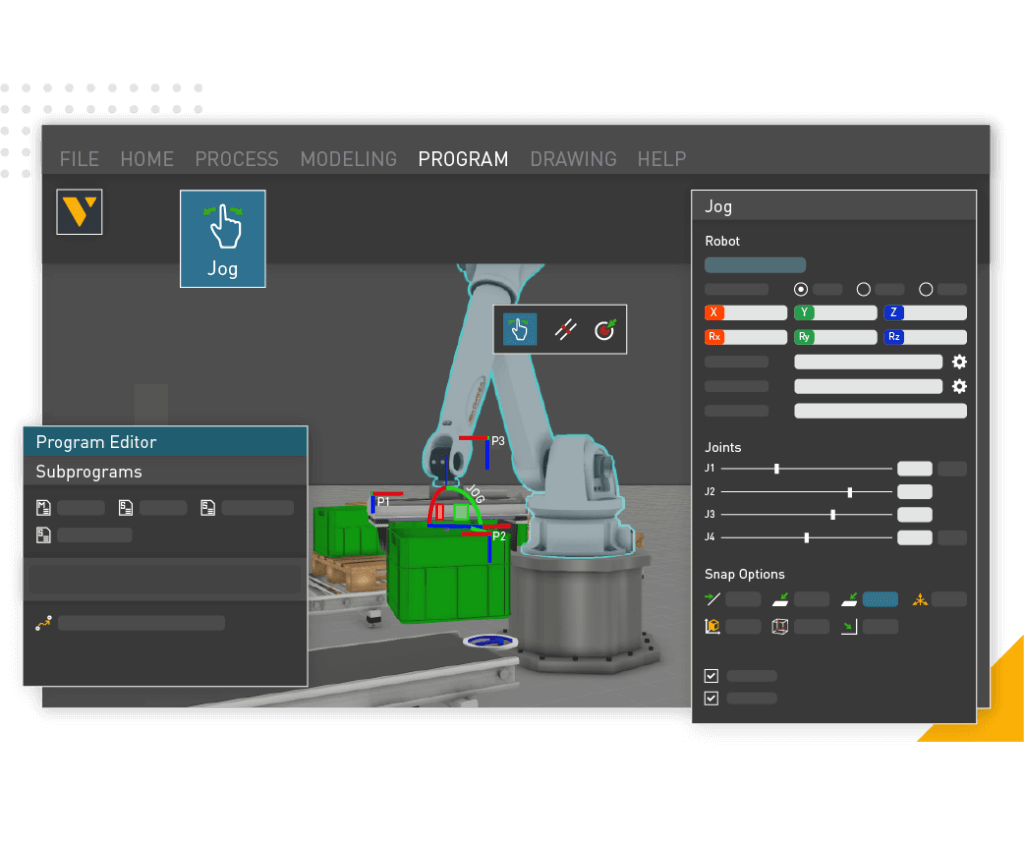 ---
Point Cloud Support
Whether you're preparing a project proposal for a client or working on modifications to your existing production configuration, context is crucial. That's why we've introduced 3D point cloud support. With this feature, you can directly import point cloud models of your facilities into the 3D environment and configure layouts within them. Point clouds are represented as geometric models, allowing you to seamlessly integrate them into tasks like spatial design, distance and angle measurements, collision analysis, and more.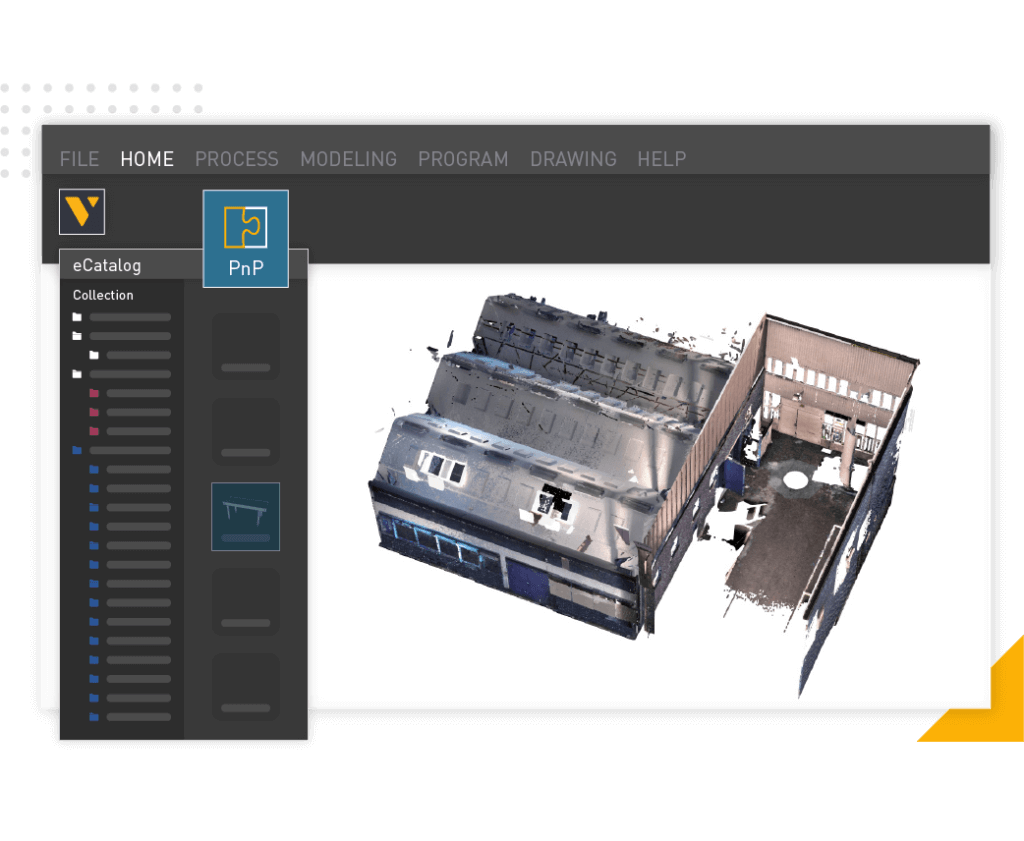 ---
Basic Virtual Commissioning
Connect simulations to your control systems to test and validate the functionality of your digital models. Ensure that your production systems are well-integrated and operating efficiently before physical implementation.
Connectivity with PLCs
You can test and verify the logic programs you have developed within your production flow, and manage changes. This connectivity feature allows you to establish connections with PLC systems from a growing number of brands. It is particularly useful for virtually implementing industrial robots. This enables the virtual implementation of new robots and minimizes disruptions in the production flow when integrating new robots into the system. With PLC connectivity, you can also visualize the production flow in real-time, collect and analyze real-time data, and then test and simulate the improvements you've made.
You can connect simulations to your control system using vendor-specific interfaces such as platform-independent OPC-UA or Beckhoff.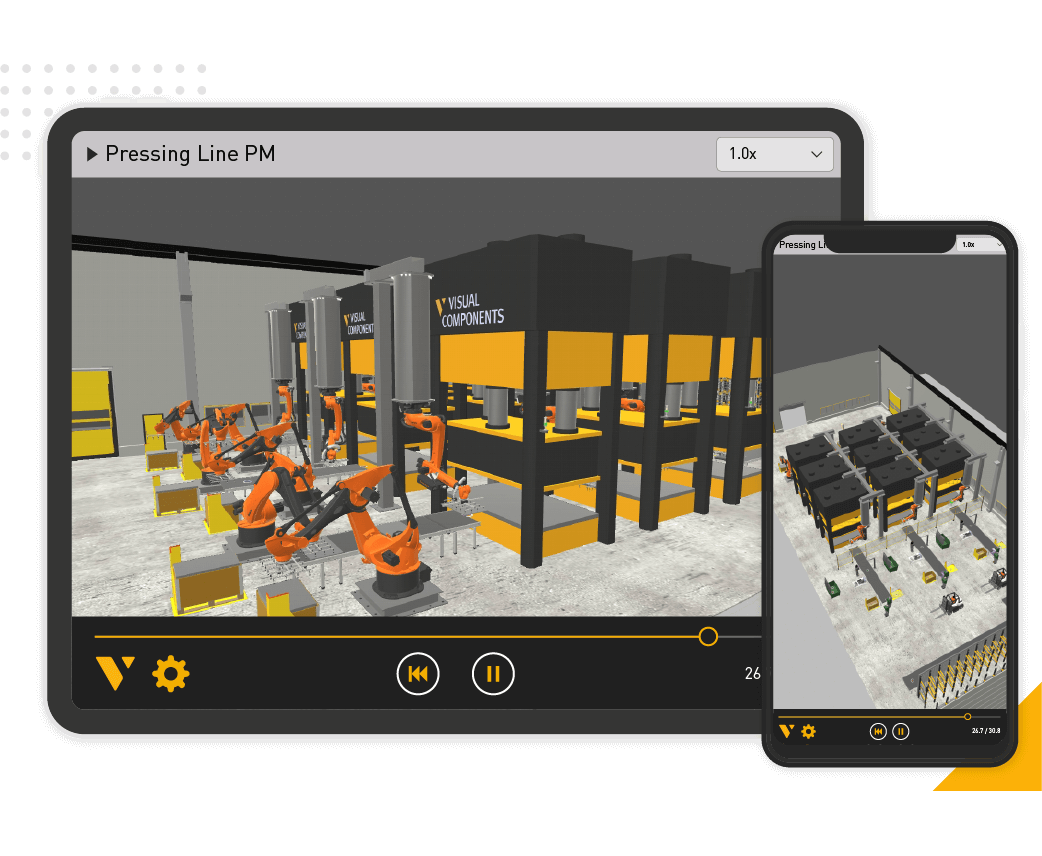 ---
Creating Sales Content

Export your simulations in interactive 3D PDF format with various layout templates.
Export 2D drawings prepared from different drawing templates and scale them to the desired view.
Export high-quality images of 3D drawings ranging from Full HD resolution to Ultra HD 4K quality, or customize the image size according to your needs.
Record and export your 3D simulations as videos in up to 4K HD quality.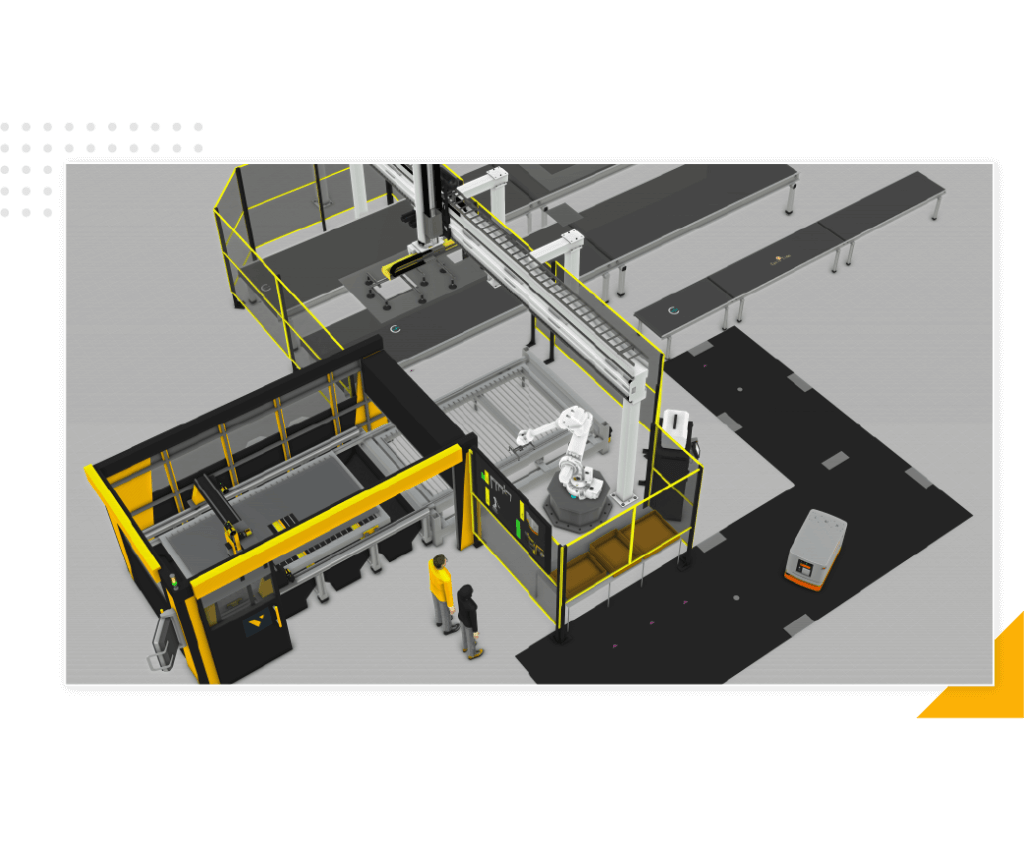 ---
Find the product you need!
With Visual Components, you can rapidly design and present your production solutions, or choose to have a platform that enhances your offline programming applications. Explore our 3D simulation family to find the solution that suits your needs.